When Allia was 14 years old, she felt she might be pregnant. She initially pushed away that feeling, hoping it was not true. When she finally took a test, she was seven months pregnant and had to quickly prepare herself both emotionally and mentally. She admits today, 18 years old: "It was a steep learning curve, but I am slowly getting to where I need to be." Allia recently graduated high school and hopes to further her studies in hospitality in the Netherlands. Although it has been a few difficult years, Allia has focused on the positive: "My son, Aquillio has humbled me and has made me a better and stronger person."
---
When did you first feel or know you were pregnant? What went through your head?
I originally had a feeling around 4 months in, but I guess you can say I was in denial. I tried not to think about it. I wasn't showing yet. Others around me were more aware than I was (or wanted to be). At a certain point, my cousin sat me down and said: "you have to do a pregnancy test now." It came back positive.
How did you react to the realisation? How did others?
My face dropped… and I was scared to tell everyone. I told my mom, and she was very overwhelmed, and so was I. We told the rest of the family, and everyone had different reactions. Some were sad at first, and worried for my future, but eventually, most of my family was supportive and agreed that this was something we would face together. For this, I am very grateful.
What were the next steps? How did you prepare?
Physically I just tried to eat more and healthier. The hardest part was mentally preparing. I thought: "You only have two months until this baby is coming, and you have to get yourself together." I tried to focus on what I could do. I went to the gynaecologist for check-ups and advice on what to expect. I spent more time with my family and got closer to my sisters; they were emotionally there for me and a great help. I had to realise that I had been reckless and change my attitude.
Were you scared to give birth?
I wasn't scared to give birth! I watched labour and delivery vlogs from start to end to prepare myself. There was one tip I kept in my mind and used during my delivery: count to ten with each push. In three pushes, my son was there.
How was that moment when you first met your son?
A mix of emotions hit me. I think reality hit me very hard, and soon after, I had post-partum depression. I had to force myself to change my 'little girl mindset' and priorities. I had to work on myself, especially my patience and anger issues, and how to handle those moments in my son's best interest. I quickly realised that my son was very intuitive; he was always watching and would mimic me, so I needed to set a good example.
Did you have support during this time?
Several family members helped where they could. My big sister took on an especially important role; I call her my son's 'second mom'. She took on taking care of him whenever I would go to school so that I could graduate. I am very thankful to her.
---

" I think reality hit me very hard, and soon after, I had post-partum depression. I had to force myself to change my 'little girl mindset' and priorities."

---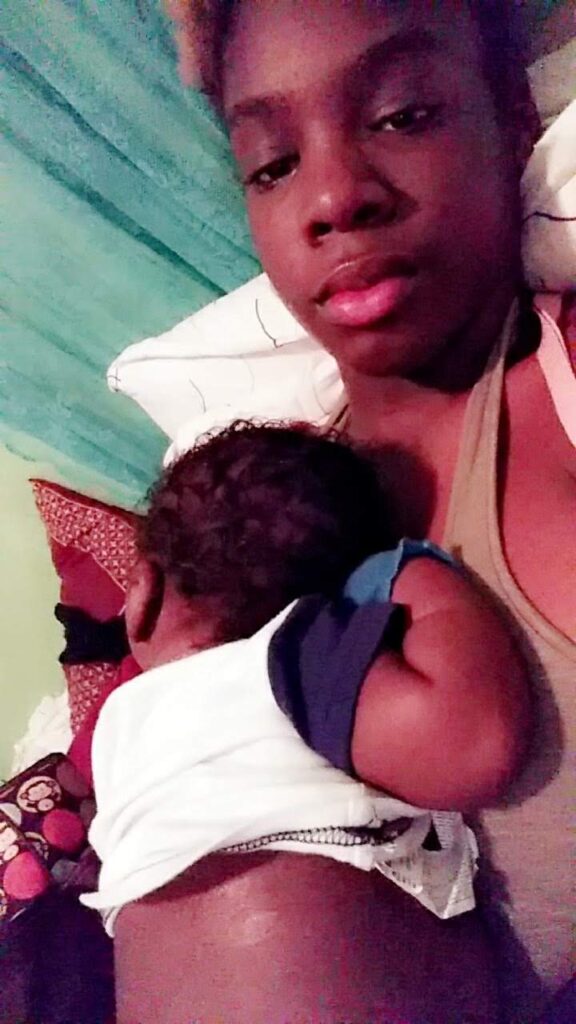 ---
How would you describe that first year of motherhood?
It was hard because after going to school, I would have to remember that my sister had already cared for my son for 8 hours, so naturally, it was my turn. At 3 months, he began to get colic and cried a lot. It was hard both taking care of a baby, feeding him, soothing him, and doing my homework. I did not get much sleep. I tried my best to stay sane and focused on my school and routine, though this was sometimes hard. It was a steep learning curve.
Did the professionals, such as doctors or teachers, support you?
My school coordinator at the time, when she found out, was very supportive. She made sure my son and I were doing ok, and together with other teachers, helped me with catching up when I came back to school. Of course, I notice that some professionals (and others) are quick to judge. They assume you are a bad or 'fast' person. I am neither of those things.
How do you handle those moments of judgement?
I choose not to care, to let it slide. I have felt very judged, which could have made me angry, but that won't help. My son is very aware of my feelings. Thank goodness he is a kind child; it must mean I did something right! When I am sad, he comes to me and wipes away my tears.
What improvements are needed to support (teen) moms and their children?
There is little financial help for single or young moms. Childcare is so expensive, and I am unsure how other moms and their babies make it without a support system as I have. Also, being a mother has made me realise that there are very few available or well-kept playgrounds on the island. I guess this is the same for small children and teenagers; there aren't enough positive things to do for the youth. We all need more things to do at a price that families can afford.
Do you think having more positive outlets could have prevented your teenage pregnancy?
I am not sure in my case, but I think this will prevent negative behaviour by youth in general. Looking at my peers, I understand why they are making bad decisions. Everything fun on Sint Maarten costs money, so they turn to selling drugs or doing unproductive things to pass the time. I also think my generation and those younger than me have trouble communicating. Young people are trying to numb their feelings with alcohol or weed. Instead of talking, they learn to communicate with violence at home, and then adults complain about 'youth violence'.
What things do you worry about regarding your son?
I am very careful with whom I allow around my son, and I don't leave him alone with just anyone. I also see many moms taking their kids just anywhere; I disagree with this; not every situation or event is safe for a small child. Also, there should be strict inspections of the day-cares on our island. I had to remove my son from his last day-care because one of the workers was hitting him and other children. School should be a safe place.
What advice do you have for girls regarding teen pregnancy?
Not to sound cliché, but don't get pregnant as a teenager. I love my son and have chosen to take positive lessons from my experience. However, I would not recommend being a teenage or young mother to anyone. It is not easy, so protect yourself. To those who are already teenage moms, do not let hateful or negative comments get to you. This won't help put food on your baby's plate. Keep doing your best!