"The community, namely professionals, are key to ensuring that the Court Of Guardianship (CoG) can do our job to protect children," says Kimberly Brown, Interim Head of the CoG. The CoG is divided in three sections: child protection, youth probation and collection and payment (alimony cases). The CoG is the official reporting center for child abuse on St. Maarten.
'We are not here to punish parents, but to protect children'
Working at the CoG can be challenging, but Kimberly always tries to remember her main objective: "I want all children to have the experience of being loved, appreciated and cared for. In my current field it can, at times, be hard to remember why I became a social worker. Sometimes the negativity can be consuming and your good intentions are not always seen as such. Nevertheless, knowing at the end of the day that I did my best with integrity gives me the strength I need to go on."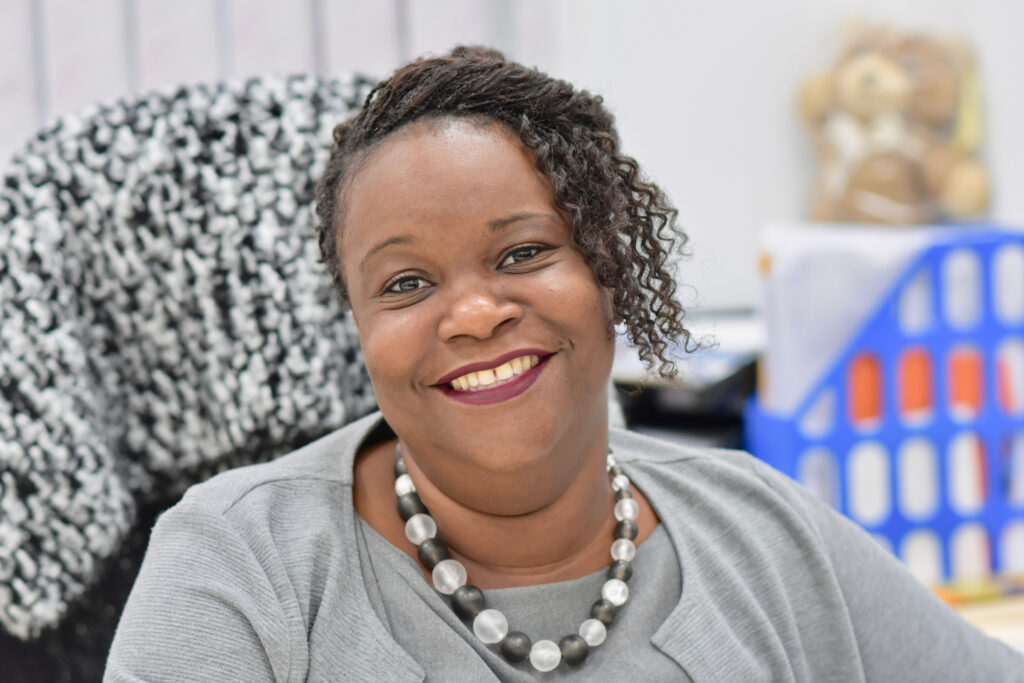 Kimberly started working at the Court Of Guardianship in 2014 as a child protection social worker. Her main role was to investigate, advise and report on matters pertaining to the safety of minors, including child abuse. In January 2019, she became the interim head of the CoG. Together with a team of three child protection social workers she handles all the child abuse cases on Sint Maarten.
The safety of children is Kimberly's and the CoG's priority. This is why they encourage professionals in the social field to "be alert and always consider the safety of a child within the household, even if their client is initially an adult." 
"be alert and always consider the safety of a child within the household, even if their client is initially an adult." 
The CoG works closely with the family guardian department of the SJIS, the foundation that assists families and minors when a protective measure is in place. Others include the St. Maarten Police Department, Prosecutors Office, Courthouse (Judges), St. Maarten Medical Center, Mental Health Foundation, Family Affairs (Women's Desk), schools, community centers and other entities that deal with children or families on a regular basis. Kimberly: "I think we can all agree as a community that we want our children to be safe and healthy. Furthermore, as a professional dealing directly with children or families, you are in the position to help ensure this."
How can you signal child abuse?
"There are many different warning signs that can indicate abuse. Physical abuse or neglect is often easier to detect as you can see signs such as bruises or unhealthy hygiene. Psychological abuse might be a bit harder to take notice of; this can, for example, be signaled because the child is showing extreme behaviors such as acting out or exhibiting withdrawn behavior.

One should also be aware of certain characteristics of parents that can lead to abuse, such as mental illness and the use of alcohol and drugs. Parents that have a history of experiencing abuse in their youth are also more likely to become abusers themselves. We also see the risk increase when a child is unwanted, as is the case at times with young single mothers who have a low education and no support system. 

Usually persons who work closely with children would know the warning signs. For those who are less familiar with the signs, or new to a job working with children, we would advise to do some research by asking colleagues, reading books, searching online etc. You can always call the CoG for advice, and we also give presentations for entities that wish to gain more knowledge on child abuse and the role of the CoG."
What can a professional report at the CoG?
"The CoG is the 'central reporting center on child abuse' (CMK, centrale meldpunt kindermishandeling) on the island. This means that all reports of possible abuse, however minor, should be shared with the CoG so that this can be filed, assessed and, if needed, action taken. However, it is important to realize that the CoG should not be seen as the 'first to have to take action' in cases of possible child abuse. First the professionals themselves should take actions within their reach to resolve an unsafe situation. 
This means that, for example, if a teacher suspects that a child is being neglected, this should first be discussed with the school's social worker and/or handled by the 'care team'. The social worker can then talk with the parents, find out what is taking place and work with the parents to make a plan of action. When all possibilities within the school system have been exhausted, the social worker (care team) can report to CoG. The CoG should be seen as the last resort to safeguard the minor."
What are common misconceptions about reporting a possible child abuse case?
"People think that the CoG will always "take the child out of their home". This is often not the case. We are not here to punish parents, but to protect children. Our first goal is to assess if we can work with the family and network around the child to ensure the child's safety and wellbeing. Only in extreme cases is a protective measure in combination with an out of the home placement inevitable. Whomever we advise – the child and their best interests are central, and in most cases these interests include keeping the parents involved.

Another misconception is that the CoG is solely responsible to ensure the safety of a child. As mentioned, if a professional suspects that a child's wellbeing is in danger – he or she has to take action first. Taking action can mean: involving the social worker within their organization, talking to the parents, or informing the family of available services."
Why do professionals hesitate to contact the CoG?
"This could be due to the above-mentioned misconceptions; it can also be that the professional knows the people involved personally or is afraid of aggressive repercussions. The public, as well as professionals, can ask for information anonymously. However, only the public can report to CoG anonymously; professionals can't. At the end of the day, the safety of a child should be your priority and you need to take action. We are just a phone call away."
What is the best way for a professional to report a case?
"The professional has already taken action and all resources within their reach have been exhausted to improve the situation of the child. The parents must be informed by the professional that they will be reporting the case to CoG, unless informing parents places the child at risk. Your report to the CoG should be detailed and in writing. It is also of great help when the professional is prepared to continue supporting the COG with more information or action if needed."
Can you give an example of a case that was resolved by a professional?
"A social worker at the Medical Center received a concern from the doctor that a newborn baby was showing signs of cocaine withdrawal. The social worker immediately informed CoG of this and was advised on the best plan of action. 
A meeting was scheduled by the social worker with the parents, doctors and CoG to discuss the concerns. A plan of action was made by the social worker to assist and support the mother in dealing with her personal issues and caring for her child. The mother was referred to Turning Point (drug rehab facility). As a form of after-care the social worker conducted home visits and continued to counsel the mother. Eventually there was no need for a protective measure or out of home placement.
This is a great example of a professional keeping the CoG informed and involved, but taking action within her scope of work and responsibilities. This case also showcases that with the right steps a child and family can be helped out of a bad situation."
How does the CoG deal with the many cultural differences?
"On Sint Maarten there is a law against corporal punishment. Yet many cultures on our island use corporal punishment as a means of correcting their children. By speaking with parents we have learnt that in a lot of cases parents use corporal punishment due to a lack of knowledge of alternatives. They were raised that way and don't know any better. 

As professionals we have the responsibility not only to point out the law and unacceptable behavior, but also to educate parents on alternatives. There are various organizations, such as the SSSD, that provide counseling and positive parenting classes."
What socio-economic factors play a role in child-abuse?
"On Sint Maarten a lot of families live in poverty. Many earn less than minimum wage, while having to care for multiple children. We have single parent households etc. Certain parents have to work two or three jobs just to make ends meet and are therefore hardly ever at home to protect and guide their children. Lack of finances and stress within a household can lead to physical child abuse and neglect."
In addition, children are left to raise themselves or older children have the responsibility to look after their younger siblings. This often creates an unsafe environment and room for predators as well. Abuse and the lack of structure and guidance can cause children to develop behavioral issues and puts them at risk for delinquency."
What can professionals do in spite of these difficult socio-economic factors?
"A first and important step is to expand the child's network; see if there are reliable family members, friends or neighbors and continue to motivate both parents to be involved in their life."
What does the COG hope to see improve on Sint Maarten?
"Our biggest issue is that we do not have enough specialized placement facilities or professionals on the island to provide the proper assistance to children or families. For example: institutions for children with extreme behavioral issues in combination with a low IQ. 
Preferably, we want to keep children at home by enhancing the safety within the household and providing parents with intensive support and tools. However, due to the lack of social workers that can assist in the homes this is not always possible.
On a positive note, we have seen more professionals, such as teachers and health care providers, taking action themselves to improve the wellbeing of children in abuse cases and or when there are concerns about the living situation. Eventually, with the proper support and guidance for families from the professional sector, fewer children will have to be placed out of their homes. We hope that these efforts continue to grow. As the saying goes: "it takes a village."
Article written by Laura Bijnsdorp