Told by Lucien York
I used to hate my dyslexia, but now I see it as my superpower. I took the most painful thing in my life and turned it into something good. Without dyslexia, I would not be as determined, creative, and resilient as I am today. Now, it is my platform, my voice, and it has given me a mission to help others struggling with disabilities.
When I was about five or six years old, going to school in Nevis, it became more apparent that I struggled with reading, spelling, identifying words by sight, and focusing. All the known signs of dyslexia, though it was initially perceived to be a vision problem.
I transferred schools in Grade 2, and my teacher recommended I get tested for dyslexia. I remember feeling terrified and interrogated by the psychologist who administered the test. It also felt embarrassing, as all my 'shortcomings' were highlighted. The assignments during the test put a lot of pressure on me to perform – and for years, I dealt with claustrophobia and anxiety linked to this experience. Perhaps the testing procedure could have been explained better and done in a way that made me feel safer – or maybe I was too young.
I was diagnosed with one of the highest levels of dyslexia.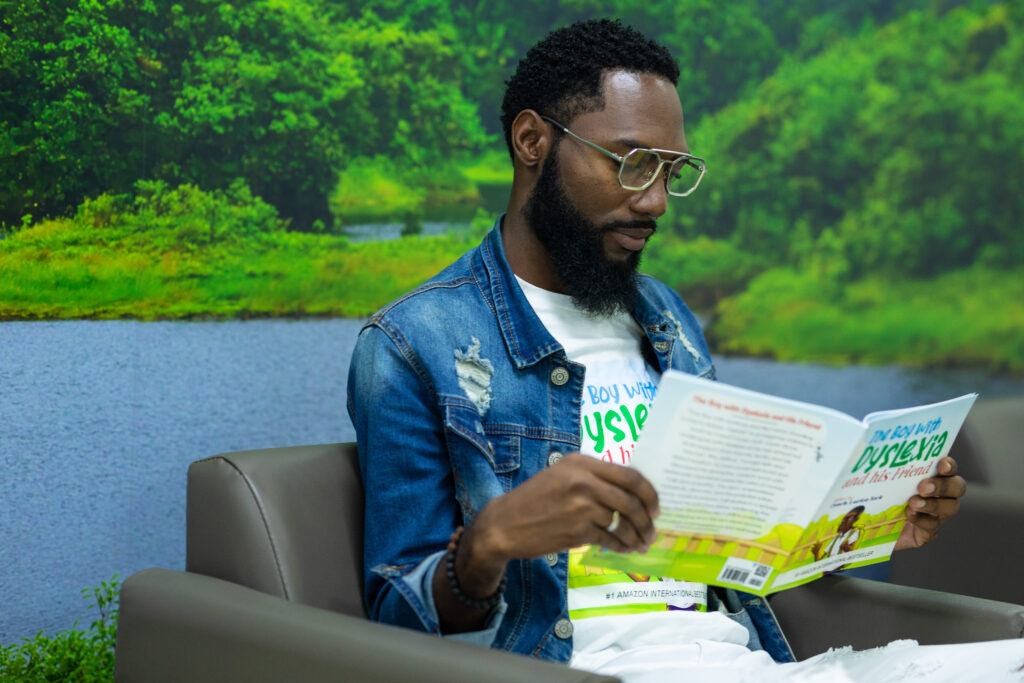 The Ministry of Education suggested that I go to a special education school. However, that institution, at the time, catered more to children with physical and mental disabilities than learning disabilities. Thank God for my strong-willed grandmother, who believed in me and pushed me to stay in the mainstream schooling system.
It was not an ideal solution, as those around me, as well-meaning as they were, did not know how to handle my dyslexia. My mother put me in afternoon school, reading classes, and Sunday school. Some classes were so busy and full that they could not give me the support I needed. Other teachers thought they were helpful by calling upon me in class 'to encourage learning', but it led to feeling pressured and failing in front of my classmates. The pressure made me 'black out'. Every time I failed, I just felt more like a failure.
It might be surprising, but what worked was horseback riding. My grandfather, who lives in Sint Maarten, raised horses for many years. Many of you might know him as 'Cowboy'. I was among the few family members who shared his love for horses. Near my village was a horse stable, and I was determined to ride horses.
During Culturama (Carnival in Nevis), I saw Erika, the daughter of the owner of the horse stables. She was wearing a shirt with the face of a horse on it. I was just seven, but I approached her and said: "I love horses, and I want to learn how to ride horses!" She laughed and said: "You are too young, maybe in a few years." I told her: "I can do it!"
Erika proposed that I come to help her at the fish store, another business her family owned, and promised that "when I was older, I could help with the horses." But I was determined, maybe even annoyingly so. Every Saturday, I came to help at the fish store, I asked her: "can we please go to the horse stables?"
Eventually, she agreed. My first lesson is still one of my favourite memories. I rode a horse called Fabiola, a black, small, old, calm mare. Erika was encouraging and said, "You are a natural!". She kept repeating positive words and affirmations. As a child, I was often told I was dumb, lazy, or stupid because of my dyslexia – and now, someone was telling me how amazing I was. For the first time, I felt like I was doing something that I was good at!

Erika, whom I now call my 'second mom' and her family, the Gilberts, have been a blessing. They fully embraced me and provided me with continued trust and opportunities that made me feel capable and self-confident. Once I had more confidence, I was more willing to work on my reading. I worked at the stables every Saturday, and later, when I graduated high school, the owners allowed me to utilise their horses and equipment to start my own horseback riding school. It was such an affirmation of what I could do.
Horseback riding was how I coped with my dyslexia – and so was the church.
There are three stages of blame that I remember while learning how to cope with my dyslexia:
1) First, I blamed my mom; maybe I am dyslexic because she did not read to me when I was small.
2) Then I blamed myself, and I tried and tried to learn how to read, but I still failed.
3) Then I blamed God. I thought, Why would God create me like this?
But later, I realised that God gave me a gift.
Although I struggled in Sunday School, I loved the time allocated to 'praise and worship' – during which we would sing a lot. Singing felt like therapy; somehow, I could recite and remember words better when singing.
I am unsure if it was a miracle or my persistence, probably a bit of both, but the bible helped me learn how to read. For years, I would take the King James Bible and try to read it. The King James Bible is written in 'old English', and although challenging, I enjoyed the 'old English' words. "Genesis 1: In the beginning, God created the heavens and the earth," – I would read the creation story repeatedly. Eventually, I could read more and more, and then I could just read!
Do not underestimate people with learning, mental or physical disabilities; it is what sets us apart. With the right opportunities and support system, they can accomplish just as much (if not more) than those without disabilities. I say that God gave me dyslexia as a gift because of all that I have accomplished because of it.
I see the world in a different way than people without dyslexia. It fuelled my determination to excel – and has made me powerful.
---
Biography Lucien York
Lucien York, a 25-year-old from Saint Kitts and Nevis, is a dedicated servant leader and aspiring humanitarian. Despite overcoming dyslexia, he has embarked on a journey of service and leadership that spans different nations.

He holds a psychology diploma from the Centre of Excellence in the UK, a certificate in youth leadership from the Young Leaders of the American Initiative network, and is currently pursuing a bachelor's degree in child and youth development work at the University of the West Indies.

Lucien's passion for service, especially in the areas of youth affairs, mental health, well-being, and human rights, led him to contribute as a youth and support leader in various nonprofit organisations. Recently he has published two children's books that raise awareness of dyslexia that can be purchased on Amazon: https://amzn.eu/d/0sH9UfN

His dedication has earned him several awards, including recognition from the Saint Kitts and Nevis Junior Achievement Company Programme, Charlestown Secondary School's Business Department Extra Mile Award, and the Saint Christopher and Nevis Federal House of Parliament's 25 Most Remarkable Teen Award. In 2022, he received the Honourable Mention Award from Change the World Model United Nations, the IChange Nations Civility Icon Award, and the Amazing People School Today's Amazing Person Award. He was also featured in the World Literacy Foundation newsletter, highlighting his commitment to global literacy improvement.