The hardest clients to re-integrate are pensioners and single mothers, says Dr. Judith Arndell, founder of the Dr. J. Foundation that manages the Crisis Shelters. "Unfortunately, we are seeing an increase in this at the shelter. Rehoming single-parent households with multiple children is nearly impossible." 
On April 1st 2018, 43 people moved into the Transitional Shelter. In the following year, 90 percent of the hurricane-related clients were successfully re-integrated into permanent homes. However, due to the economic challenges the island faced post-hurricane and now with the pandemic, the Transitional Shelter is still a much-needed facility.
No alternative living arrangements
In the wake of Hurricane Irma, hundreds of people found themselves homeless. In response, the Ministry of Public Health, Social Development and Labor (VSA) tasked the Dr. J. Foundation to establish and manage a Transitional 'crisis' Shelter for people who could not find alternative living arrangements. The Shelter would provide a safe space to sleep, as well as counselling and guidance to help find employment and housing. "Many of our clients come to the shelter due to the consequences of unemployment", explains Dr. Judith Arndell, Founder of the Dr. J. Foundation. Judith is a clinical psychologist and has over thirty years of experience working with the most vulnerable residing on Sint Maarten.
The Dr. J Foundation
"Our foundation was founded out of weekly bible discussions. A group of us saw the importance of helping the needy and feeding the hungry. Out of this, the DJF Crisis Shelter was established in 2016, initially with personal contributions. The DJF Crisis Shelter can house ten people and allows them to stay up to three months. At the shelter, they can also get the guidance that they need to get their lives together. Our experience managing our shelter also helped us set up the Transitional Shelter as requested by the Government. Our foundation also helps to write, implement, or manage several community initiatives. I am well known for my work as a clinical psychologist in which I have worn many hats for the past 30 years. At the moment, my 'baby' is UJIMA, which helps at-risk children get back on the right track. I have a passion for helping vulnerable children."

Find out more about the Dr. J Foundation: http://drj-foundation.com/Crisis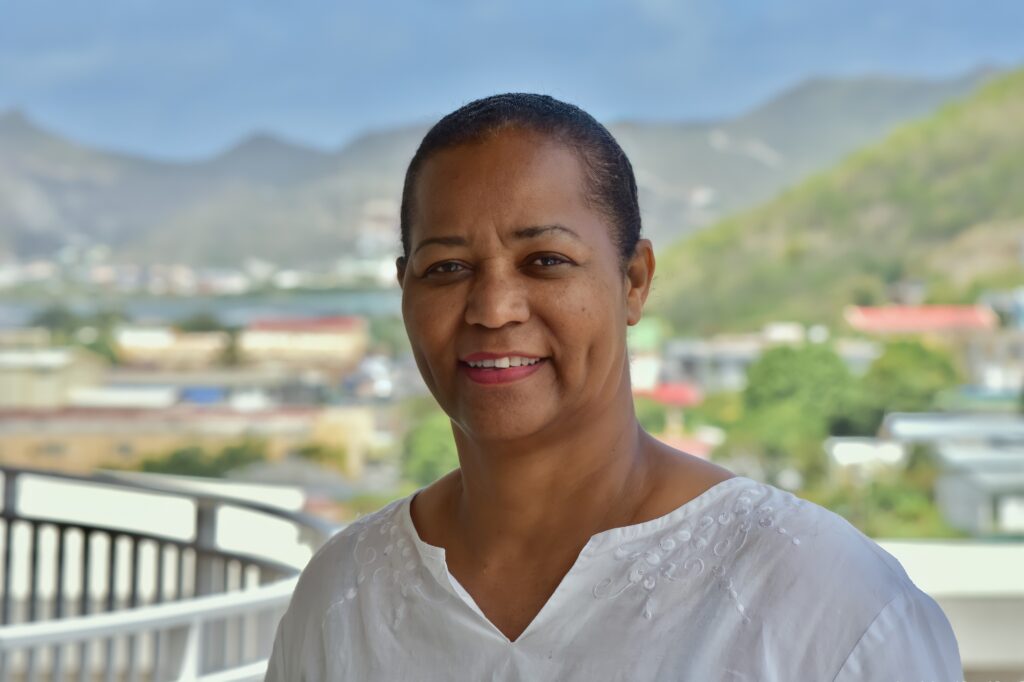 The Transitional Shelter consists of sixteen rooms and five studios that can accommodate one to two persons, and six three-bedroom duplexes reserved for families. The rooms are outfitted with beds, a microwave, fridge, and basic hygiene facilities and items. Larger rooms have a full kitchen. "If needed, we provide three meals a day, personal counselling, family counselling, employment guidance, teach life skills such as budgeting, and refer shelter residents to other services to help them get back on their feet', says Judith. "I have a great team that keeps the Shelter running and provides these various services."
How do people end up in the Transitional Shelter?
"The Transitional Shelter is really meant as a 'last resort' for people in need or an emergency situation. When a person indicates that they would like to stay at the Shelter, our team does a screening of the situation to establish whether they have no other options.
We are not equipped for people with addictions or mental health issues. Nor do we, in most cases, take on domestic violence cases. These people are referred to Turning Point, Mental Health Foundation, or Safe Haven, for example. This is also to ensure the safety of others staying at the shelter. They need to have legal residential documents and sign certain agreements, which includes drug testing. A legal guardian or parent must always accompany children that are referred to the shelter. In theory, people can stay for a maximum of three months in the shelter to get back on their feet. In practice, this is not always realistic."
Why is this not always realistic?
"Due to a variety of reasons, but our economy plays a big role. Employment has been harder to find (or keep) in the wake of Irma and the current pandemic. Although many of the initial Irma-related cases have been re-homed, others became in need of shelter after outstaying their welcome with friends or family. Complex family dynamics, or an emergency such as a fire, can also be the reason for seeking shelter."
"In theory, people can stay for a maximum of three months in the shelter to get back on their feet. In practice, this is not always realistic"
"A low minimum wage and high rental prices make it hard to re-home some of our clients. This is especially true for pensioners, who receive a meagre pension. We are also seeing an increase in single mothers with children who are in dire need. It is challenging to find affordable housing but nearly impossible to find a place suitable and affordable for single parents with children. It is also hard to balance having to take care of many young children – washing, clothing, feeding, playing – while finding enough work to provide for your family."
What is the solution to this?
"Re-integrating families with children would be easier if landlords were more 'child friendly' and have more consideration for families with children. We notice many are not willing to rent to people with children, as they are worried about 'wear and tear'. However, as a landlord you can make a big difference by assisting families who have nowhere to call home. At the shelter, we will continue to do our best to provide guidance and motivate our clients. It isn't ideal, but we also make exceptions and allow people to stay at the shelter for longer, if needed."
Are there any special considerations for children?
"No child is allowed to be without supervision at the shelter. If a parent needs to leave to do an errand, for example, they have to find someone who can take responsibility for the child in the meantime and inform us at the reception. 
Some of the children at the shelter go to school and might not make it in time for breakfast or lunch. Our kitchen staff prepares meals for them in advance or puts the meals into containers so the children can take meals to school or eat lunch when they get back from school.
When faced with a crisis or emergency, children need to feel safe. You can do this by acknowledging their feelings and listening to them. Reliability and consistency are also important. Our social workers keep a close eye on children, and we do a lot of counselling. Not just with the family but also with the children one-on-one, as many need additional guidance."
"When faced with a crisis or emergency, children need to feel safe. You can do this by acknowledging their feelings and listening to them" 
What can we do as a community to support the shelter?
"We encourage the community to keep us informed if affordable housing or employment opportunities become available. People also donate furniture or other goods to help people settle once they can move out of the shelter. If you have furniture or household items to donate, you can contact us. We store all donations in a container until a client leaves and needs specific items, so all donations are put to good use.
In addition, regarding the protection of children, I think we should encourage the community to get more involved in safeguarding children in general. The reality is that many people are struggling. If you see a child in a situation that you think might not be safe, do your part and reach out to that child or call the appropriate emergency services."
You are confronted with difficult stories daily; how do you cope as a professional?
"You have to keep your work in perspective. I can cry and feel sad with my patients, for example, I especially have a hard time with child abuse cases. However, I have also learned to disconnect when I am not at work. I can't carry it; otherwise, I cannot continue helping others."