A game that teaches hurricane preparedness through play

HURRYcane Run has arrived, a recently released board game that combines fun and valuable knowledge about hurricane preparedness and safety. Created by Student Support Services Division (SSSD) and UNICEF the Netherlands (UNICEF NL), this game enhances the way young people learn about staying safe during hurricanes and storms.
HURRYcane Run is a component of SSSD's Safety Ambassadors Program, tailor-made for Group 6 students in elementary schools. This program aims to empower students by cultivating a safety-conscious culture within their schools.
The board game's artwork by Artistic Drive brings the Safety Ambassadors Program to life. From depicting St Maarten's environment to including cultural icons and carefully crafted illustrations showcasing disaster preparedness supplies and scenes, every detail of the artwork seamlessly intertwines with the game's theme, making the player's experience a fun and engaging learning experience.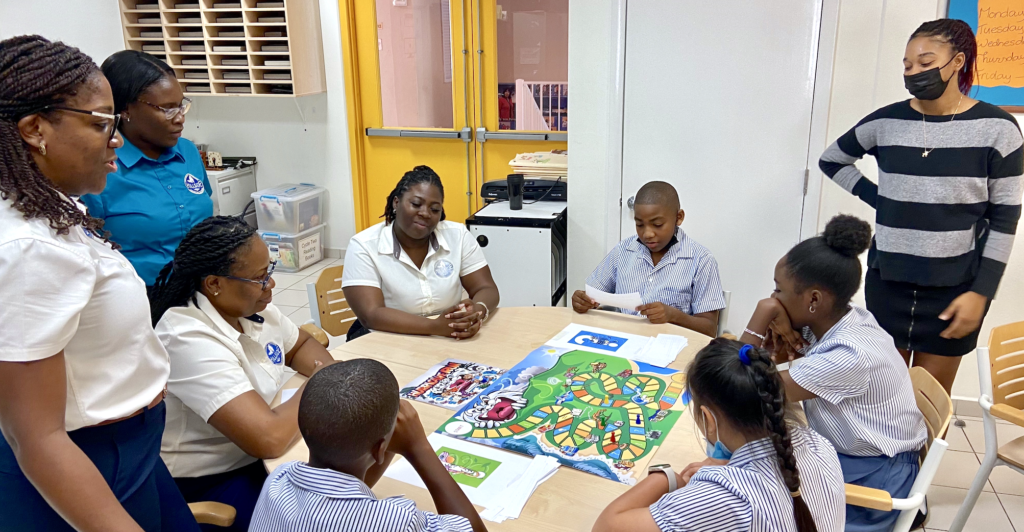 Testing the Game
Representatives Ernika van Putten of SSSD and Laura Bijnsdorp of UNICEF NL tested the game with students, teachers, and administrators at Asha Stevens Christian Hillside (ASCH) School in 2022. The feedback collected during the game's testing was used to fine-tune and finalize the board game.
While testing the game, the students offered great feedback on the gameplay and design of HURRYcane Run: "I love the game and how it looks. But it is a lot of reading!" said one student – who asked to play again after he won. Teacher and School Emergency Team (SET) member Natasha Forde commented: "The content of the game fits well with the disaster preparedness curriculum of the school."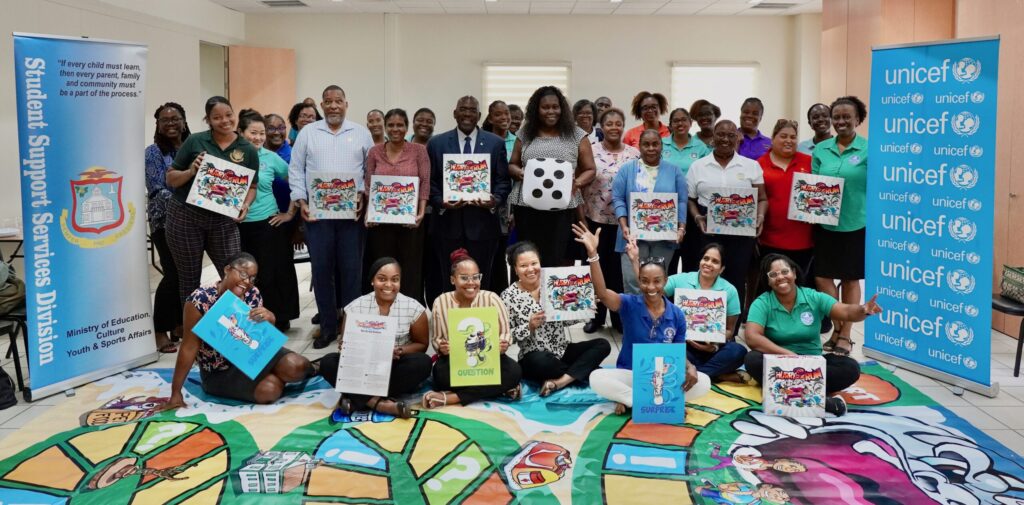 Presenting the Game
Once completed and printed, elementary school representatives were invited to experience the new educational game. Several attendees commented: "Even us, as adults, learned new facts about hurricane preparedness while playing this game!"

Olga Mussington-Service, Head of SSSD, welcomed all representatives: "I hope you enjoy playing this game and feel it is useful in your classrooms. School Safety is a priority for us, and it is through the hard work and involvement of our teachers and school staff that we continue to improve school safety on St. Maarten"

After attendees finished playing a round of HURRYcane Run, schools were formally presented with copies of the game by the Honourable Minister of Education, Culture, Youth & Sport drs. Rodolphe Samuel. "We cannot avoid another disaster; therefore, we must cement preparedness in our schools. I commend the hard work of SSSD and the support of UNICEF the Netherlands in creatively reaching this goal"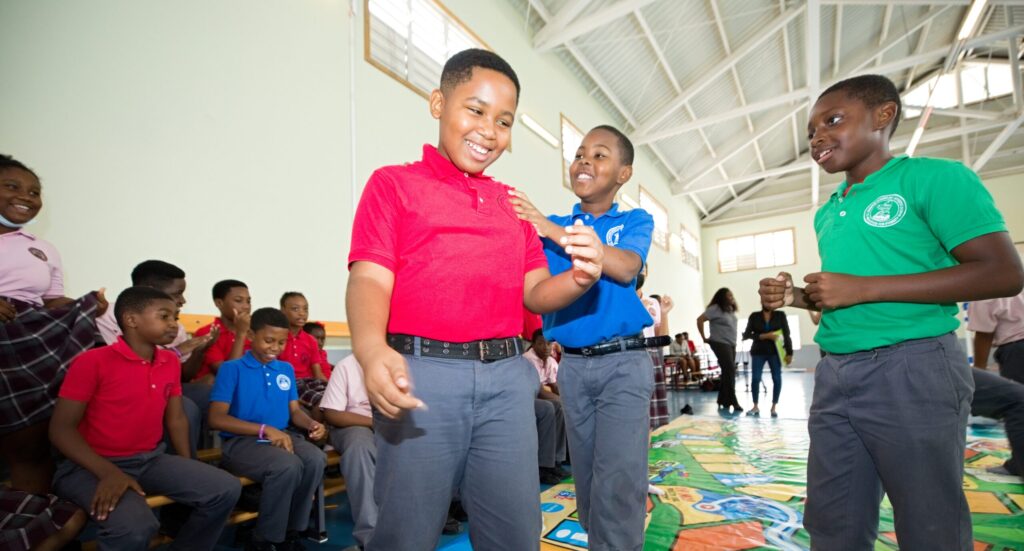 Learning through play
Besides presenting classroom-sized copies to all Primary Schools, several events were hosted during which a life-sized version of the game was played by 5th and 6th-grade students at ASHC School and the Seventh Day Adventist (SDA) School. Students, who acted as the game pawns, threw a large inflatable die in the air to move forward. Students sitting on the side-lines were tasked with reading the question and surprise cards as they were part of the game. A few "oh no's…" were heard when players would land on a tile that prompted players to move backward. The students were actively engaged, and most of the game resulted in loud cheering.

"It's a fun game! This is the most fun I ever had playing a game at school!" 11-year-old, Alexander said. He also learned some important lessons. "The most important thing I learned was to have a medical kit because it's something I never really thought about," he said.

"Many students learn better through play. With this game, if they make mistakes, they learn to correct them in a fun way. I foresee utilising this game for multiple grade levels in our school," stated School Manager of the SDA School Mrs. Illidge.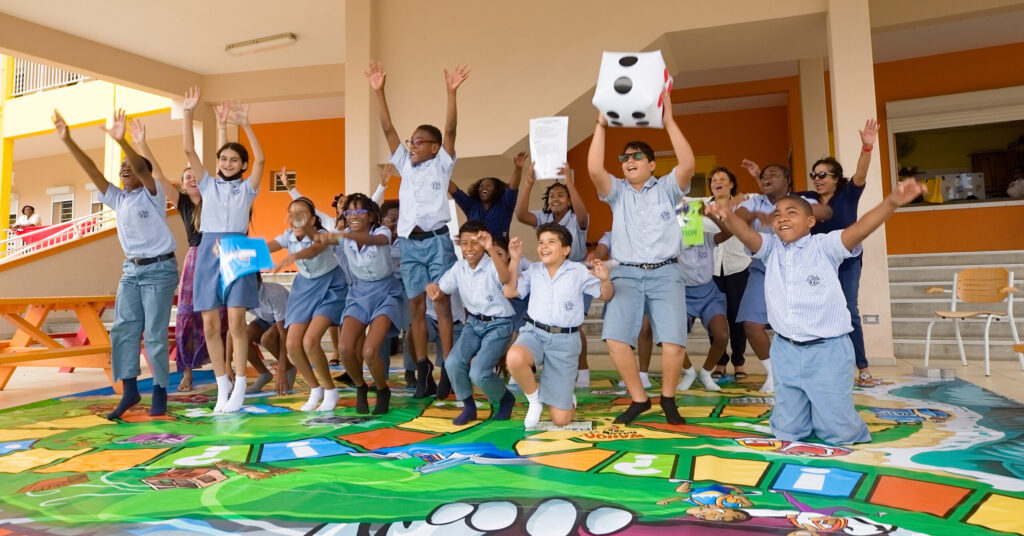 This activity is part of the Child Resilience and Protection Project (CRPP) executed by UNICEF the Netherlands in collaboration with the Government of Sint Maarten, financed by the Government of the Netherlands through the Sint Maarten Trust Fund.

Anyone interested in HURRYcane Run can contact Student Support Services Division: [email protected]