During a disaster, Chantale Groeneveldt and her colleagues coordinate everything related to equipping, opening and coordinating the hurricane shelters. People in need also receive referrals to emergency supplies and services, counselling, and help with longer-term sheltering, if needed.
This 2021 hurricane season, eleven shelters will be available to the public. The shelters are essential for those who do not have a safe place to stay during a hurricane. "However, we recommend first seeing if you can stay at a safe location with family or friends", states Chantale Groeneveldt, Head of the Community, Development, Family & Humanitarian Affairs (CDFHA) Department of the Ministry of Public Health, Social Development and Labor (VSA).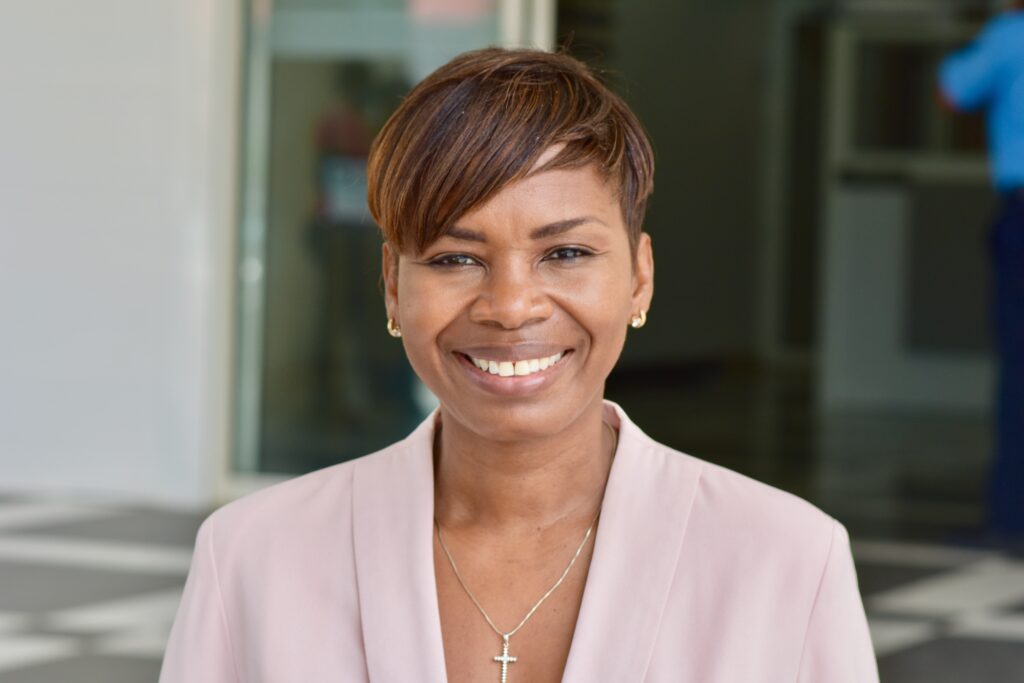 Chantale has been head of the department since February 2020. She has a background in both the medical field and management, and has worked at various departments and cabinets within the Ministry of Public Health, Social Development and Labor (VSA) for many years. "I have a passion for helping people, and with this new position and my great staff, we will continue to make a difference in people's lives."
Wide range
The CDFHA has a wide range of responsibilities. During a disaster, the department's staff become "shelter experts" that coordinate everything related to equipping, opening, and coordinating the hurricane shelters on Sint Maarten. In normal times, they collect, register, and analyse data from within communities to assess the needs and develop programmes. "We support and execute policy geared towards the most vulnerable in our community and co-execute informative and social-educational empowerment programmes", Chantale says. "In addition, we facilitate empowerment activities that, for example, help enhance the position of women in our society through a Women's Desk, and more."
Preparation is key
Preparations to equip the shelters start before the hurricane season. After hurricane Irma, several shelters were in need of repairs. These repairs are now completed thanks to entities like VROMI and NRPB and financing from the Trust Fund. Shelters are equipped with a water reservoir, generators, air-conditioning, and hurricane shutters. Inside the shelters, we provide clean water, toilet and shower facilities, soap, toilet paper, beds and blankets.
However, Chantale also states that we should be aware that the shelters are only meant for short-term (72 hours) use: "Some items that you should bring include food, extra clothing, and a number of other items. Persons should be prepared and make a 'go bag' with necessary items in case they have to stay at a shelter."
Where to find the Hurricane Shelters (2021)
1. Milton Peters College – New Gym hall – L.B. Scot Road, South Reward​
2. Dutch Quarter Community Center – Zorg en Rus Road, Dutch Quarter
3. Rupert Maynard Community Center – St. Peters Road, St. Peters
4. NIPA (National Institute for Professional Advancement) – Cay Hill
5. Belvedere Community Center – Low Estate Rd, Belvedere
6. Simpson Bay Community Center – 53 Airport Rd, Simpson Bay
7. Melford Hazel Sports Center – Soualiga Road, Sucker Garden
8. John Larmonie Center – Longwall Road, Philipsburg
9. Genevieve de Weever School – Hope Estate Rd, Guana Bay
10. L.B. Scott Sport Auditorium – Long Wall Road, Philipsburg
11. Little League Ball Park – Soualiga Road, Philipsburg

Click here (http://www.sintmaartengov.org/special-campaigns/Pages/Hurricane-Shelters.aspx) for information on the shelters and their locations.The Department also shares updates via the Government Facebook page and all radio stations.
Consider your children
A go-bag is a portable bag that should hold the items one would require to survive for at least 72 hours, when evacuating from a disaster. This includes food, water, necessary documentation, a flashlight, hygiene products, medication, etc. "When you have children, you should carefully consider what items they need. For example, a young child might need extra diapers or baby food, and an older child needs a game or a favourite toy to keep themselves busy and comfortable during a disaster."
Everyone is welcome at the shelter, no matter their legal status. Everyone is asked to carry a form of identification with them for safety purposes. "We shelter everyone. However, children have to be accompanied by an adult. I hope it does not happen, but should a child show up without an adult guardian, the shelter manager will contact the relevant department and take responsibility for that child until they arrive", explains Chantale. She also points out that it is crucial to stay with your children at all times when staying at a shelter. This includes accompanying them everywhere on shelter property, including going to the bathroom and in the shower areas: "Our shelter manager and other staff strictly enforce this rule."
"If another strong hurricane hits us, and more people need shelter, we will have to prioritise people's immediate safety and be more flexible in regard to COVID-19 regulations"
Realities of a pandemic
In addition to a shelter manager, once each shelter is open, they are also staffed by a police officer and trained volunteers from partnering NGO's. Together they help make people at the shelter as comfortable as possible. Strict rules are enforced, which include no alcohol, drugs or fighting. These rules now include COVID-19 regulations, which can pose a challenge depending on the severity of a hurricane.
Chantale: "Due to the pandemic, the shelters' official capacity has been decreased to allow for enough social distancing. In reality, however, if another strong hurricane hits us, and more people need shelter, we will have to prioritise people's immediate safety and be more flexible in regard to COVID-19 regulations."
Aftercare and considerations
In the case of a severe disaster, for those unable to return home after 72 hours, the CDFHA staff will begin conducting individual assessments. If required, certain shelters will be used as 'recovery shelters' or 'transitional shelters'. People are assisted in various ways such as home visits, referrals to emergency supplies and services, receiving counselling, and help with longer-term sheltering.

"Sint Maarten had not experienced a disaster as severe as Hurricane Irma, and long-term sheltering became a big problem back in 2017. Now we have a Transitional Shelter that can house up to 70 persons, which is an improvement," explains Chantale. She also admits that longer term sheltering is difficult for people who do not have legal status: "We try to help those despite their status as much as we can within the legal framework, but cannot admit them to the Transitional Shelter, as this can 'open the flood gates'. We would put ourselves in an almost impossible situation, as these people can't access legal employment or social services."
More community involvement
To prepare for and manage the aftermath of a disaster is a huge task. The nation's Emergency Operations Center (EOC) has eleven Emergency Support Function (ESF) groups that focus on various aspects of disaster management. ESF-7's responsibilities include: mass care, evacuation, and sheltering, the latter which falls under the responsibility of CDFHA: "As you can imagine, this takes a lot of teamwork and needs the support and cooperation of our whole community to run smoothly", Chantale says.

She has many ideas for improvements in her department, but also admits "financial constraints are an issue." To offset this, she aims to get communities more involved: "It takes a lot of human resources to manage the hurricane shelters, and we could use more hands to help us run the shelters and help people when a hurricane strikes. I hope to work towards more pro-active and committed working relationships between communities, the community councils, and the Government."